We've been at this for a while...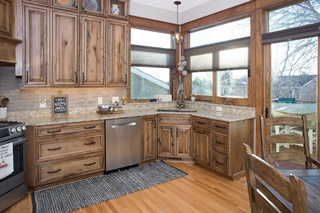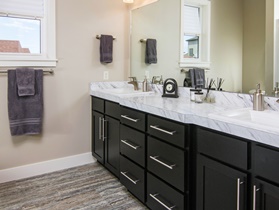 For 73 years we have been manufacturing and distributing quality Crown Cabinetry for our dealers, retailers, contractors and helping our end customers fulfill their dreams by providing products that make a house their home! We take great pride in every cabinet we produce, using only the finest materials and craftsmanship available in the industry, ensuring your cabinetry will last a lifetime. Our good, better, best selections will meet any budget.
With all the cabinet types and sizes, features and modification options, wood types, door styles and finishes we offer there is no end to what you can do with our quality cabinetry! We have seen our quality Crown Cabinetry installed everywhere you can imagine, serving every possible purpose in a home from fine China Hutches, beautiful Entertainment Centers, Kitchens and Bathrooms in every configuration imaginable, endless Storage Solutions, Home Offices and Libraries, creative Livingroom applications, organizing Laundry Rooms, Entryways, Mudrooms, Bedrooms and Closets to name only a few.
Wherever possible we strive to use renewable resources. All of our quality cabinetry is manufactured, and all of our materials are sourced here in the USA.
Over the years we have gone to great lengths to decrease our carbon footprint by maximizing our use and yields on our raw materials due to our endless selection of rustic cabinetry that accompanies our clear wood selections. This along with recycling efforts, donation of our sawdust waste to fire log and wood stove pellet manufacturers has significantly reduced our landfill contributions and utilized our largest raw material, trees, to the fullest extent. Through careful reformulation of our quality finishes, implementation of state of the art equipment and lots of hard work we have lowered our VOC emissions by over 70 percent in the last 20 years without compromising the beauty or the durability of our conversion varnish finishes. We genuinely care about our environment being located in one of the most diverse and beautiful places on the earth. Our beautiful state has 7 of the most visited National Parks in the world and many State Parks that we all use and enjoy, so we get it, it is important to be environmentally responsible.
Olympia Sales Company, Inc. dba Crown Cabinets is a privately held, family owned company servicing the western United States, taking care of our customers the way we would want to be treated one kitchen at a time! Our quality Crown Cabinetry is performing perfectly for thousands and thousands of happy families, and has been for many generations now. We love what we do and our customers are the beneficiaries. Our goal is to do it right the first time, everytime, helping you furnish and organize all the rooms in your home with beautiful, durable, functional, quality Crown Cabinetry!
Member of: Designer Catalogs available:
We also have a Quick Quote Program available for pricing purposes if you have a design program other than those above.