FINISH SPECIFICATIONS / Care instructions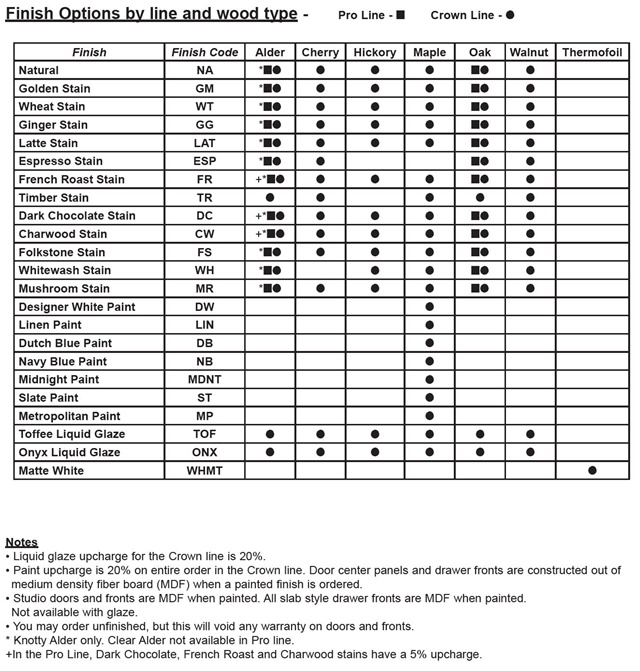 Finish Procedure
To achieve the fine finish on all face frames, doors and drawer fronts the following procedures are followed:
• All products are inspected for defects.
• All products run through a series of sanding equipment - wide belt drum sanders, orbital hand sanders and hand sanding.
• All dust particles are removed with high pressure air.
• Stain coating applied.
• Catalyzed sealer coating applied.
• Hand sand, dust off with high pressure air, inspect.
• Glaze hand wiped if ordered.
• Catalyzed conversion varnish top coat applied.
• Heated hang time for drying.
Conversion Varnish Top Coat
Conversion varnish is a super finish used by Crown Cabinets to give cabinets unsurpassed durability and lasting beauty. This finish represents cutting edge technology in cabinet finishes; its resistance to moisture, chemical, marring, yellowing, chipping, checking and cracking makes it the best finish available for our quality Crown Cabinetry. The catalyzed sealer coat and top coat easily exceed any and all standards for kitchen cabinet and bathroom vanity finishes.
Color and Grain Variation and your finish
Crown products are manufactured with the highest quality and standards. Select grade materials are our standard. The components are hand selected to provide the best possible uniformity in the grain patterns. However, natural wood has considerable color variations and could contain shades of white, red, black, or even green in areas. These color differences come from the minerals in the soil and water where the tree was grown. Grain variations doffer between species, and within the same specie from tree to tree. They change for various reasons including clilmate, forest density, aging, knots, insects and damage from other outside sources. All wood species will vary in color when exposed to different types of light regardless of the finishes used.
Due to the transparency of the stains used, and regardless of the stain color, some of the natural characteristics will show through the finish. These characteristics add to the individual beauty found in all Crown products and are not to be considered as imperfections but mother natures natural creations. We recommend you use current samples for actual reference on the stain and paint colors you are considering.
Crown Cabinetry Touch Up
We recommend satin polyurethane for top coat touch up, we use the Deft Satin product in our factory. You may order quart cans or touch up pens of our stains and paints. Due to the technical application process and controlled environment in our factory it may be difficult to get an exact match. Be sure to practice on a scrap or spare part before preforming the repair to the actual product. Shake the pens well before use, touch the affected areas until a sufficient amount of stain covers the scratch or ding. Use a lint free cloth to soak up any excess stain. Some damages may require a professional to do the repair for an exact match. Replacement doors and fronts may always be ordered through your dealer if necessary.
Touch up kits are available for all finishes except, French Roast, Mushroom and Wheat stain colors. Each kit includes a stain pen, putty stick, scuff pad, scrapper and instructions. Onyx and Toffee glaze pens may be added for an additional charge.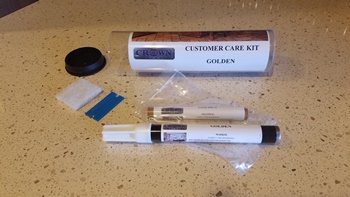 Stain Pens are available in all of the finishes for touch ups of minor dings and scratches: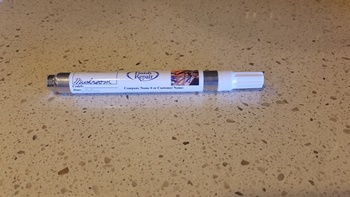 Crown Cabinetry Care Instructions
We recommend that you clean your cabinets with a mild soapy water and cotton cloth and dry immediately and thoroughly. Be careful, especially with painted cabinets, to dry off any water or moisture that gets inadvertently spilled on the cabinetry, particularly the sink cabinetry. Avoid continual subjection of the painted products to moisture and steam from coffee makers, rice cookers, other small appliances, and dishwasher vents that give off steam. We recommend that you polish your quality Crown Cabinetry as you would any other fine furniture.
Occasionally tighten your hinge screws and any loose drawer hardware screws, as these are the most frequently used parts of your cabinetry, to ensure lasting and proper function. All of your hardware has a lifetime warranty from the manufacturer of the hardware.
Painted Finish Disclaimer

Painted finishes have unique differences from other wood finishes with which you may be familiar. When paint is applied to wood products composed of several different pieces of wood, expansion and contraction of the wood, due to temperature and humidity and water exposure, can cause cracks in the finish where these pieces join together. There are several areas on the cabinets where these cracks will occur. Doors may develop cracks in the finish on the door joints and seams on the glued up door panels. Stile and rail face frames may develop cracks on glue joints where horizontal pieces meet vertical pieces. Mitered style doors are very prone to develop cracks or breaks in the finish on mitered joints. Spilling water on painted cabinets, especially if it gets into the joints of the doors and drawer fronts can cause swelling in the wood and break the bond with the painted finish which will begin to separate from the wood. Water damage is not covered by our warranty. Olympia Sales Company cannot insure painted product will not react to these normally occuring circumstances. These characteristics are normal wood reactions and will not be considered for product replacement or warranty.
---