Become A
crown SUPPLIER
We have been making and distributing quality kitchen cabinetry since 1950. 72 years in this industry and we have learned how to make both our dealers and our end customers happy. With 30 different door styles, several include and many of them modifiable with 3" wide styles and rails, and optional profiles, many which come standard with 5 piece fronts. We offer 11 wood types, 13 stain colors, 7 paint colors, 2 glaze colors and thousands of cabinet sizes with many options, modifications and attachments available, the sky is the limit on what you can do with our cabinetry.
We pride ourselves on customer service. Not only will a live person answer the phone, our trained professionals have rich experience in the industry and will help you with any questions in product specs, design, or construction needed. We are flexible and always willing to help as best we can. Our professionals are friendly and like to get to know you and we consider our dealers team members and have a great reputation supporting them. We proof every order that comes in for accuracy, to ensure that it will be completed correctly.
We have a 4.7 star rating on Google and 4.3 star rating on Facebook for a reason. If there's one thing we've learned in these 72 years it is that making our end customers happy is the very best form of advertising there is!
Quality
We stand behind our products! We have made untold thousands of customers happy with our quality cabinetry. Lifetime warranty on all the hardware, hinges, and drawer glides.

Service
Our trained professional staff review each order and often recommend changes to help improve any issues we recognize may arise from design faults or esthetic and other issues we see.

Price
Our cabinets are always fairly priced for both our dealers and end customers, with a good price point.
Come Visit Us!
You are always welcome to come visit our friendly staff and go on a tour of our plant to see where our quality Crown Cabinetry is manufactured to exacting specifications and in a timely manner.
4 week lead time typically, due to Covid10 week lead time

Free brochures

Great discounts on displays with incentives to credit back costs

Friendly manufacturer reps in many territories

One of the most robust rustic wood offerings in the industry - perfect for the Rocky Mountain region and urban ranch style living.

No charge for rush requests




*We reserve the right not to rush if we cannot accommodate the request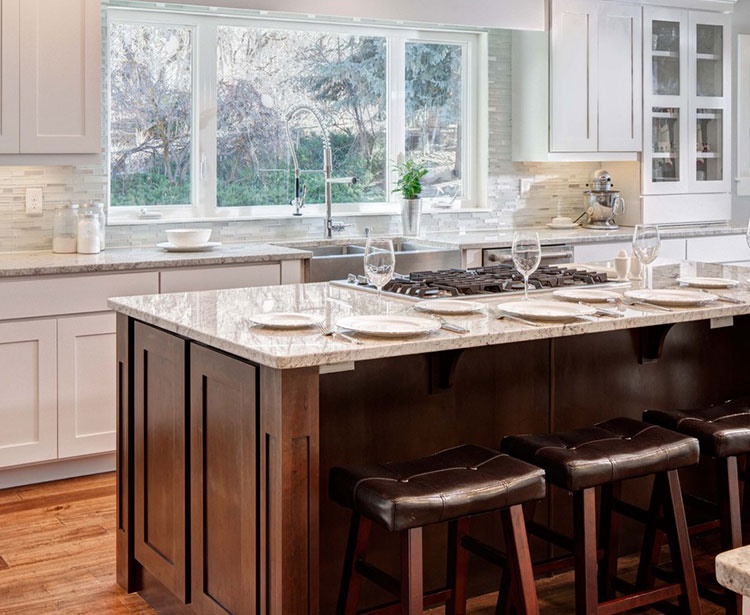 2020 Design
We are implementing 2020 Insight manufacturing software currently which will greatly enhance our order entry process, improve accuracy and speed the order confirmation process. Our 2020 design catalog is programmed in house so we guarantee 100 % design and costing accuracy on your orders and designs. Your 2020 designs will automatically be entered into our manufacturing and scheduling program, obviously for those of you who use 2020 design.
We offer a free design service, product knowledge training, and 2020 design software training to help new dealers.
In addition, for those who don't have 2020 Design or Pro Kitchen Design software, we have a free Crown Quick Quote Program to help you quickly price orders once you have manually designed the project.
Custom Modifications
We offer custom modifications to our cabinetry to an extent. We request that you sketch out what you want and if we feel we can do it well, we will quote you and use your drawing and specs as specified. We do reserve the right to refuse any custom requests that we do not feel like we can do what you want for a reasonable enough price.
When requesting a custom cutout in an oven cabinet, warming drawer or microwave cabinet if you provide the make and model we will build the the cabinet to fit the appliance cutout specifications exactly, so its a plug and play cabinet, no cutting required by the installer, for a small upcharge. Drawings are provided for your approval on such requests.
Interested in Becoming a Dealer?
Please fill out the form below and we will get back to you shortly.